Are you looking for a Kids Skateboard Helmet? If so, this review article is for you.
Skateboarding is the favorite sport of both my child. My daughter is 12 years old, and my son is 10. You could say that my daughter influenced my son to try skateboarding. And Tony Hawk is their role model.
They are so crazy about this spot that we even had to build a skateboard park in our backyard. But as a mother, I have to think about the safety of my kids. It is impossible not to get hurt while skateboarding.
The gloves and protective gears like knee and elbow pads prevent my kids from scratches and fractures. So I always make them wear helmets, gloves, and other protective gear. These precautions are always needed in any kind of sport.
But the most sensitive place is their head. Even a minor hit from a fall can cause concussion and severe brain damage. So we need to get our children the best helmet for safety measures. But what is the best skateboard helmet for your child?
There are many helmets you can find in the market. However, not all of them provide ultimate safety features. So you need to check all the requirements of safety in order to get the 10 best skateboard helmet
Therefore, we have gathered some of the best kids' skateboard helmets that will keep your child from getting hurt in the head. These helmets are not only tested in different sports but also certified by by-laws as the safest and most protective helmets.
Top 10 kids skateboard helmet Review in 2023
Here are the ten best skateboard helmets for kids. I have discussed all the features and additional information about these helmets. From this list, you can easily choose whatever skateboard helmet you like for your child's safety.
01. Best Comfortable Safety Kids Helmet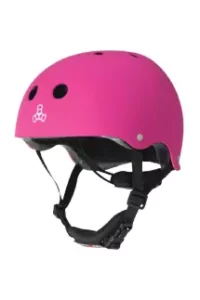 Triple 8 Lil | Kids Helmet
Price: $49.99
Little Tricky | Triple 8 Helmet
Price: $49.99
Let us start our list with two of the most comfortable safety helmets for kids. The Triple 8 Company has been a leading global brand of helmets and other protective gear since 1996. Their Lil'8 and Little tricky helmets are specifically made for children.
The Lil' 8 helmets are certified with ASTM F-1492 Skate safety standards and the U.S. CPSC Safety Standard for Bicycle Helmets for Persons 5 and Older. It is also kid-friendly due to its adjustable dial system and pinch-saver padded chin strap.
It covers your toddler's forehead, neck and chin. Even if he falls, his head and chin will be protected from injuries. At the same time, it is perfect for skateboarding and cycling.
With similar certifications, the Little Tricky helmets come in four different colors and minimalistic styles. The A.B.S. outer shell has a glossy rubberized coating. The layered padding allows the helmet to comfortably sit on your kid's head with an inner EPS liner.
Moreover, it comes with two sets of fit pads that you can switch after others get old. You also get adjustable straps and two liners in both S/M and L/XL sizes. So you can still use this helmet when your kid's head grows bigger.
Read the Triple Eight Lil 8 Helmet full review:
02. Multisport Kids Helmet
Outdoor Master
Price: $39.99
4.6 out of 5

7,310 ratings
Outdoor Master Kids Skateboard Helmet
Another best kids' skateboard helmet is the Outdoor Master Kids Skateboard helmet. It is a multisport helmet with necessary certifications like CPSC, ASTM, and C.E.
This helmet is well-built and budget-friendly. You will get all the safety features like an A.B.S. shell and EPS core in this helmet. It gives both comfort and protection to your child while skateboarding, cycling etc.
Outdoor Master Kids Skateboard helmet is available in many colors, including white, purple, and mint. The straps also have different colors. So your child can choose their favorite color and design.
Moreover, it comes with extra paddings, two removable liners and a skin-friendly chin strap. The adjustable pads absorb the sweat well. You can use the adjustable dial to fit the helmet perfectly to your toddler's head. It is well-attached and long-lasting.
Furthermore, it has excellent ventilation holes. However, the size of this helmet gives a bubblehead look. It is a bit heavy compared to other helmets; still, it fits well and is impact resistant.
Other than that, the company gives one year warranty. They are very friendly and knowledgeable. You can even contact their customer service if you have any issues with their product.
03. Another Multi-Sport Helmet
Razor V-17
Price: $21.46
4.6 out of 5

7,310 ratings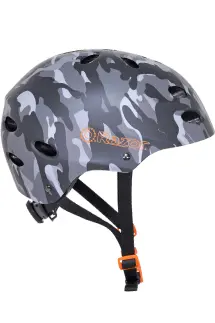 Razor V-12
Price: $35.59
4.6 out of 5

26 ratings

Razor V-17 Youth Multi-Sport Helmet
If you want a skateboard helmet for beginners, then Razor V-17 Youth Multi-Sport Helmet is the one for you. It has adjustable sizing that fits children to teenagers. Due to its ergonomic padding, this helmet gives comfort and security to your child's head.
The versatile design allows this helmet to be multisport. It is available in five colors and designs: Geo, Gloss Black, Gloss Blue, lucid red and Magenta. All of these designs have a gloss finish which is washable and looks very attractive.
Moreover, this helmet provides impact and abrasion resistance. It is also lightweight and durable, which makes it easy to wear and carry while skateboarding.
One of the key features of this helmet is its ventilation. It has 17 top and side vents that keep your child cool on the trail. Furthermore, it features four side-release buckles so that you can easily adjust the helmet.
This V-17 helmet provides complete safety and protection to your child inside and out. Therefore, you can use it in different sports like cycling or horse riding. As a beginner in skateboarding, your child will get all the comfort and security by using this helmet.
04. Premium Kids Helmet
Retrospec Dakota
Price: $35.59
4.5 out of 5

808 ratings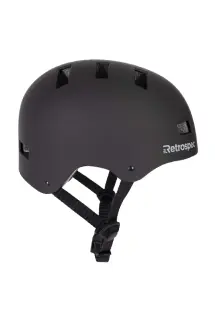 Retrospec CM-1
Price: $19.05
4.4 out of 5

278 ratings
Retrospec Dakota Skateboard Helmet
Retrospec Dakota skateboard helmet is one of the premium helmets you will find on the market. It gives premium protection on your rides on your skateboards, scooters and roller skates. It is an excellent helmet for your children in terms of safety.
This helmet is available in three sizes: Small 51-55 cm, Medium 55-59 cm and Large 59-63 cm. They also include adjustable straps that you can adjust for a customized fit.
Moreover, you can find a variety of matte colors to match your child's skateboard. However, there are no bright colors; you can still choose between black, crystal blue, forest, navy, white, etc
Furthermore, it has great ventilation with ten vents that keep your toddler cool even in hot weather. The dew collector interior padding technology helps absorb sweat and stench. It keeps your child dry and free from any irritation.
Other than that, it is formed with A.B.S. outer shell with high-quality EPS foam. This absorbs the shock of hard impacts and ensures the safety of your child's head. It is recommended for both kids and teenagers.
Therefore, if your child ever falls while skateboarding, the Retrospec Dakota skateboard helmet will definitely save them from having brain damage.
05. Best Kids Safety Protection Helmet
Pro-Tec Classic
Price: $59.98
4.7 out of 5

1,145 ratings
Pro-Tec Helmet For Kids
If your kid wants to be a professional skateboarder, a Pro-Tec helmet will give your child the best safety protection. It is made for situations like rough and risky pathways for skateboarding helmets.
It is available in 8 different colors and six sizes. The design of this helmet is inspired by retro style. It has been the best skate helmet for pro and amateur skateboarders for over four decades.
With its A.B.S. outer shell, inner EPS foam, and 17 open vents, your child will protect your head from the harsh road impact and have any concussions or shock. So you will get the ultimate comfort using this helmet during the hot summer.
Moreover, Pro-Tec helmets have the best breathability, with eleven vents around the head. It also has a two-layer foam liner and paddings that are highly breathable and odor resistant. It also helps the helmet fit snugly to your kid's head.
Furthermore, most professional skateboarders use this helmet due to its several certifications and high density. It helps withstand any hard falls and damage to both the helmet and your head. So you will not get any scratches on the helmet itself.
Therefore, you can purchase this helmet to get the ultimate protection for your child. It will not disappoint you in any way.
06. Creative Kids Skateboard Helmet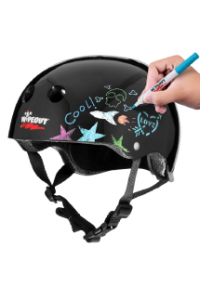 Wipeout Helmet
Price: $29.99
4.6 out of 5

1,668 ratings
Wipeout Helmet | Teal Blue
Price: $29.99
4.6 out of 5

1,668 ratings
Wipeout Kids Helmet
As we are talking about the best kids' skateboard helmets, we cannot miss the Wipeout Kids helmet. It is a very creative helmet that comes with a set of non-toxic markers and stencils. You kids can get creative with designing their own helmets.
The outer shell is encased with dry-erase-friendly plastic, so your kids can personalize their helmets with any dry-erase marker. They can create their unique masterpiece matching their skateboards.
It also comes in two sizes. They are for ages 5+ with 49-52cm and ages 8+ with 52-56cm. The color set includes five dry-erase non-toxic markers in assorted neon colors and a stencil kit with eight incredible shapes.
Moreover, it is certified with U.S. CPSC Safety Standard for Bicycle Helmets for Persons Age 5 and Older and ASTM F-1492 Skate safety standards. So it will give complete protection to your child's head even if they fall.
Although it does not have any adjustable straps or dial, the narrow sizing of this helmet fits properly on your toddler's head. It will also secure and give protection from head injuries. Moreover, it is the most budget-friendly helmet.
07. Certified Sweatsaver Kids Helmet
Triple Eight | Signature Edition
Price: $64.11
4.8 out of 5

6,651 ratings

Triple Eight | Moxi Stripey
Price: $78.67
4.8 out of 5

92 ratings
Triple Eight THE Certified Sweatsaver Helmet
Another best skateboarding helmet from the Triple Eight Company makes it to this list. The Certified Sweatsaver Helmet is specially made for absorbing sweat and protecting both beginner and expert-level skateboarders.
It is available in four sizes. They are XS/S fits 20 – 21.25 in (51 – 54 cm), S/M fits 21 – 22.5 in (53 – 57 cm), L/XL fits 22.5 – 23.5 in (57 – 60 cm) and XL/XXL fits 23.5 – 24.5 in (60 – 63 cm). To customize your size, you have to use the string liners to better fit.
It features dual-certified protection for ages 5 to older people. It gives ultimate comfort with high-impact absorbing EPS Foam. It is made of soft and plush Sweatsaver fabric that absorbs sweat more than any other helmets out on the market.
Other than these, you will get two extra sets of Sweatsaver pads. These pads help in fitting the helmet to the head very snugly. You can also use them for a long time and change them if they are worn out.
Therefore, it is the best Sweatsaver helmet for a sweaty head during summer vacation. It is also very stylish to match your skateboarding passion.
08. Safety Standards Kids Helmet
TurboSke Helmet
Price: $26.99
4.7 out of 5

2,971 ratings
TurboSke Skateboard Helmet
TurboSke Skateboard helmet is made for superior protection. It is certified with several protection guidelines, including 16 C.F.R. Part 1203 and CE EN 1078 safety standards. So, you can be completely assured of the safety of your child while skateboarding.
It comes in 2 sizes, S/M for 52cm -58cm and L/XL 58cm -61cm. This helmet has an adjustable dial that helps you fit the helmet snugly on the head. Moreover, you will get two extra foam pads that you can use after others get worn out.
It also gives protection from the inside and out site layer. The semi-flexible sizing ring allows you to expand and close to properly fit around the head. Also, the soft paddings inside help in preventing shock to your head from a hard fall.
Furthermore, it has impressive ventilation with 11 air vents around your helmet. This will pull the fresh air inside and force stale air out. Therefore your toddler's head will be relaxed and comfortable while wearing this helmet in hot weather.
It is a multisport helmet. You can use it for skateboarding, roller skating, inline skate, longboarding, ice skating, two wheels electronic board, scooter, cycling etc. It is a versatile helmet for both children and adults.
09. Best Classic Kids Helmet
Apusale Helmet
Price: $24.99
4.7 out of 5

2,393 ratings
Apusale Kids Skateboard Helmet
Apusale Kids skateboard helmet is a classic bike and skateboard helmet that will give complete protection to your child. It will prevent your child from getting any bumps or bruises while skateboarding, biking, or ice skating.
The A.B.S. outer shell and EPS core make this helmet shock-absorbing and durable. It is also lightweight with 11 vents and breathable foam. This feature allows airflow and prevents sweat from running down your kid's head.
This helmet is available in several sizes like S: 48-52cm, M: 53-58cm and L: 59-62cm. You can easily fit your kid's head in this helmet, and it will grow them for a few years. Moreover, it has an adjustable side release button.
Furthermore, you can find several colors in this helmet. So your child can choose his favorite one from this color collection. It is also perfect as a gift for your child's birthday and other occasions.
Other than that, you will get a full refund if you do not like this helmet after purchasing it. This company's customer service is fantastic in terms of politeness and helpfulness.
Therefore, the Apusale Kids skateboard helmet fulfills all the criteria of being a stylist and protective helmet for any sport. Even if your child does not like skateboarding, they can use it in riding bikes and other outdoor sports.
10. 3D Cat Kids Helmet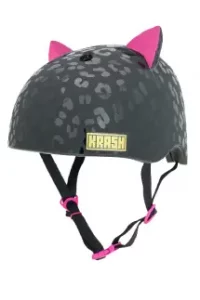 Krash Girls Helmet
Price: $31.99
4.8 out of 5

2,771 ratings
Krash Girls Youth Skateboard & Bike Helmets
If your child wants a 3D cat ears helmet or leopard graphic on their helmet, Krash Girls Youth skateboard and bike helmets bring you all of these designs in their collection. With its aesthetic designs and versatile style, your kids can wear this helmet for skateboarding, biking, and even riding a scooter.
This helmet has a collection of cat ears, rabbit ears, rainbow prints and even any other print you want. You can also customize the pattern and design of the helmet according to your kid's aesthetics.
With the U.S. CPSC Safety Standard certification for Bicycle Helmets for Persons aged 5 and Older, it is the perfect helmet for biking. It protects your toddler's head with its durable outer P.V.C. shell. The inner foam is made of polystyrene which dampens the harsh impacts.
Furthermore, it comes with adjustable straps that help in fitting the helmet. The aerodynamic cooling vents allow airflow inside the helmet. Due to these features, the head will not have a scratch even after your kid falls on a rough road due to these features.
Krash Girls Youth Bike Helmets are lightweight and recommended for ages 8-14 years. It will fit finely in these ages of children. So you can purchase this helmet for its versatility and aesthetic style.
Kids Skateboard Helmet Buying Guide
CSPC and ASTM-certified true skateboard helmets. Skateboarding, cycling, and scootering are covered by CPSC certification. Wearing a skateboard helmet can help avoid surface injuries such as fractures of the skull, a certified helmet can absorb the force of the collision, reducing the risk of brain damage.
Skateboard children's helmets must meet ASTM requirements. There is an outer shell that protects your children from frequent collisions, especially when skateboarding. Surprisingly true! Most skateboard helmets are only CPSC-approved, and ASTM certified!
When buying a helmet we need to make sure that the helmet covers all the risky areas of the baby's head. So choosing the right size may not be possible for you.
Kids' skateboard helmets are a piece of safety equipment on skateboards that must be of quality. Since we are thinking about safety, the helmet has to meet the safety standards
Kids Helmet Sizing and Adjustment Steps
The helmet you choose must fit your child's head appropriately. Because head sizes differ from one child to the next, you should measure your child's head before purchasing a helmet.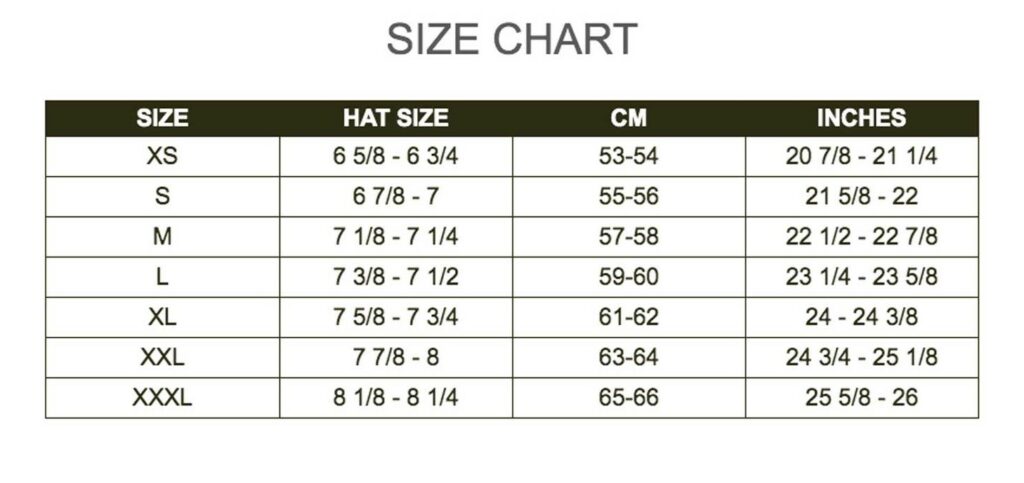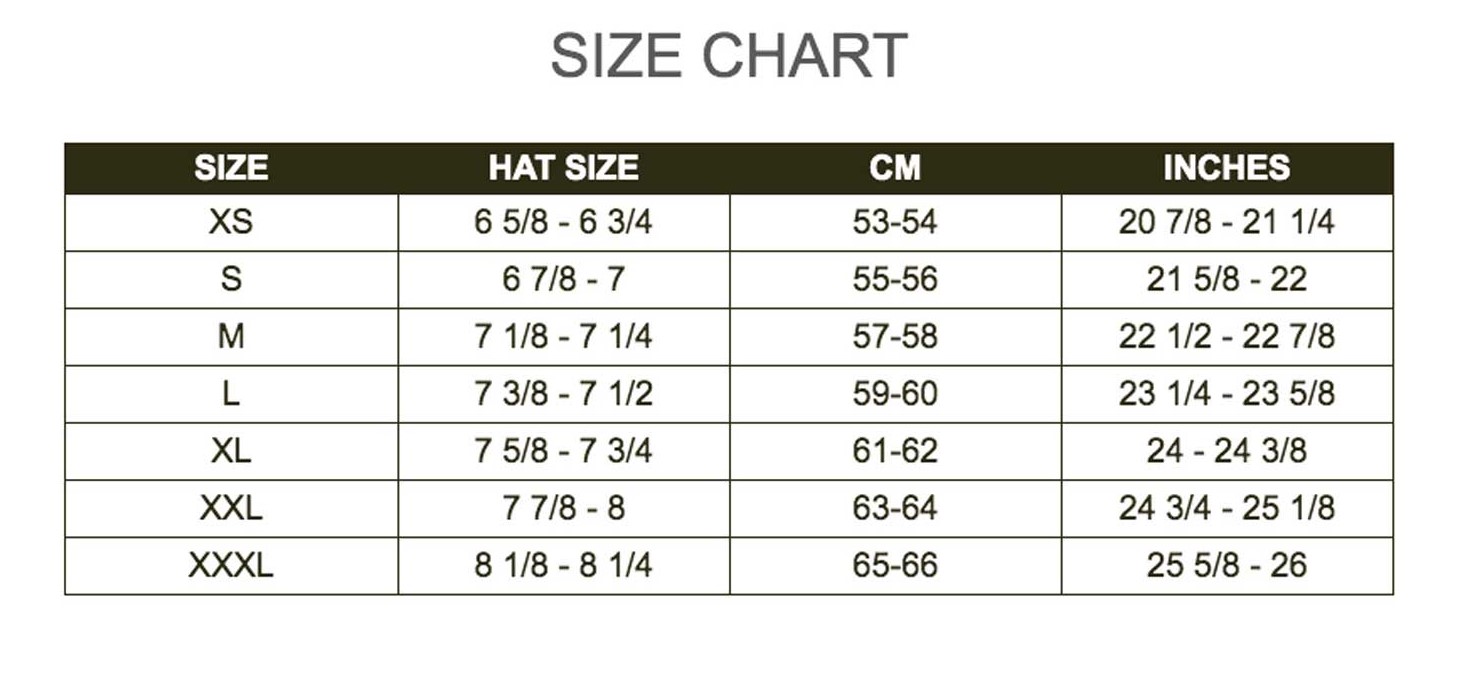 Wrap a tape meaWrap a tape measure around children's skulls, starting at the middle of the forehead and slightly above the brows, to do so. Look for helmets that fit within that size range once you've determined your size. Because most helmets are made to accommodate a variety of head sizes, you may need to seek extra features like as thicker padding, adjustable straps, or an adjustable dial to get the optimum fit.
If you need a visual representation of how to measure kids' head sizes, watch this video.
Kids Skateboard Helmet FAQ
What to look for when buying a helmet for your child in 2023?
The helmet should lay low on the forehead and be level on your child's head (not tilted back!). Make sure the helmet's bottom edge is one to two finger widths above the brow. Test your children by asking if they can see and hear properly while wearing the helmet.
Why Is Certification Important for kids' helmets?
As part of the ASTM certification, skateboard kids' helmets must have unique foam cores and exterior shells that are particularly intended to protect riders from various impacts that are prevalent when riding a skateboard.
Can kids use bike helmets for skateboarding?
Bike helmets are CPSC-approved for usage on bicycles. Skateboard helmets must meet ASTM standards in order to be used on a skateboard. Skateboards are not covered by the CSPC certification, and bicycles are not covered by the ASTM certification. Every ASTM-certified skateboard helmet we've discovered, on the other hand, is also CSPC-certified for bicycle usage.
Because they have been certified for both bicycling and skating, these dual-certified skateboard helmets may be securely used for both activities. Standard bike helmets, especially "skater-style" helmets, are not dual-certified and should not be used for skateboarding.
Is buying an "off-brand" skateboard helmet safe?
Consumer Reports discovered that several helmets offered online that purport to be certified are not. When it comes to safety, we always advise purchasing items from well-known and trusted companies. We're not arguing that all off-brand helmets are dangerous, but as parents, we prefer to buy helmets from well-known manufacturers.
Final Thoughts
Finally, it is necessary to wear helmets and other protective gear like pads in any kind of sports. As a parent, you should always check for the best product that assures safety and protection for your child. Otherwise, you and your child will get hurt severely during playtime.
Before buying any kind of helmet, you need to consider a couple of things, such as helmet size, features and safety laws. These are the main criteria that make sports helmets different from regular helmets.
You should also measure your child's head and buy the helmet accordingly. Otherwise, it can cause a big accident if the helmet is bigger or smaller than your toddler's head. Measuring with tape is the best for the perfect size.
Moreover, there should be ventilation for air flowing and a hard outer shell. The inner should be soft foam that fits well in the head. This way, your child can play in hot weather without getting light-headed.
These criteria are essential for the safety and protection of your child's helmet. Other than these, you should also check for the style of the helmet. So your child can be happy to wear a helmet of their favorite colors and designs.
So we hope this article helped you find the best kids' skateboard helmet for not only skateboarding but also other outdoor activities. These helmets are suitable for outings and sports activities for your kids.